In forests or open fields, you may catch a glimpse of a fiery figure.
It is the fox, going on his business.
He may be scouting his territory,
hunting or foraging for food,
searching for a partner,
or simply frolicking about.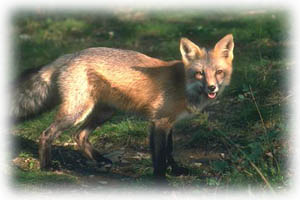 They will have a ritual fight, leaning on each other's shoulders and trying to topple each other over. They don't normally hurt each other this way.
The winner gets the territory. However, the young fox will probably not win from more experienced foxes.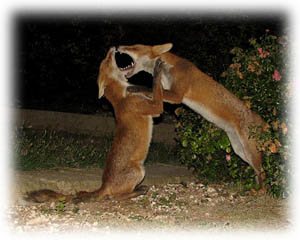 The fox searches for a mate to share his life with.
The dog-fox lets out long barks and the vixen shrieks loudly. That way they can find each other.
During the next weeks they will have the courtship in which they play with each other and get to know each other better.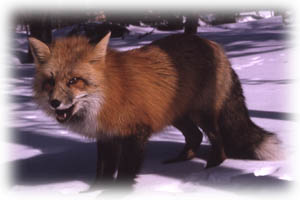 It is spring now.
During this time the fox couple has enough to eat so that the vixen's unborn cubs are nourished enough.
They will find frogs in the ponds,
birds and hares in the fields and
rabbits and mice in the undergrowth.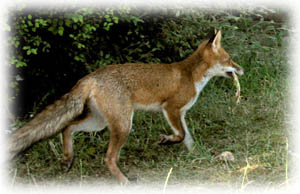 Before the vixen gives birth, she digs a den, or finds a vacant one and extends it. That way, she and her cubs will be warm and comfortable.
She gives birth to between three and eight little balls of fur. After birth, she stays with them in the den for the first weeks to take care of them.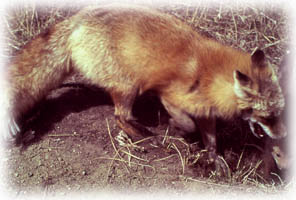 The young cubs have ritual fights to establish a hierarchy.
The leader gets to eat first so that he or she stays fit and healthy.
When a sibling tries to eat with the leader, the leader will rebuke him.
If there is enough food for all of them then the cubs will share.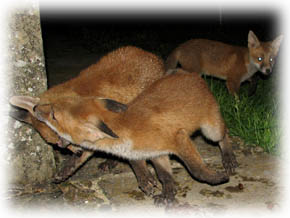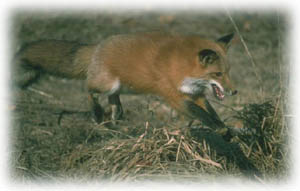 It is autumn and a young fox must find a territory of his own.
He needs a territory to hunt and forage, and to have his own home.
He may need to travel for weeks before he will find a vacant spot.
He may cross territories of other foxes who do not want him there.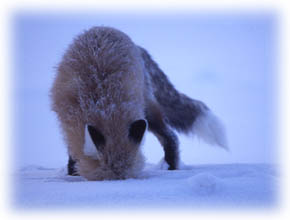 The fox has other problems in winter.
Everything is covered with snow!
He now has to find food under it.
He may hear a mouse or vole, or insects crawling below the snow.
His fur has grown thick to protect him from the cold.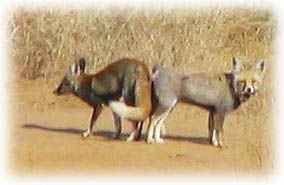 After courtship the vixen allows the fox to mount her.
When the dog-fox is done, he will dismount but remain attached to the vixen for up to 30 minutes.
Part of the dog-fox's member has swollen so much that it forms a knot. It looks uncomfortable but they will surely have cubs now.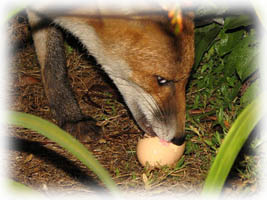 But they also eat eggs, berries, fruit and insects if they find them.
Foxes living close to humans may even look into garbage bins to see if there are any left-overs!
When the vixen's cubs become too heavy, the dog-fox will catch food alone and carry it to her.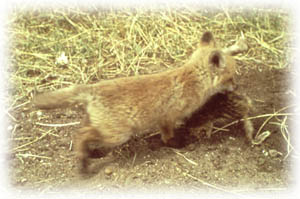 The vixen suckles her cubs in the first two months of their life.
Then, she and the dog-fox slowly start giving them meat.
At first, the parents chew the meat and regurgitate it so that the cubs can eat it easily with their milk teeth.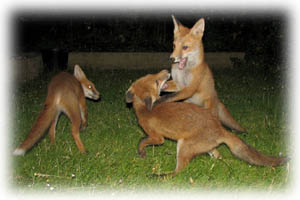 After eating, it's time to play!
The cubs will engage in good-natured squabbling, pouncing each other, grabbing each other's tails and other fun games.
And it is not just good fun, but they also train hunting skills this way.
In summer, the parents take the cubs on hunting and foraging trips to show them how to survive on their own.